8 Conditions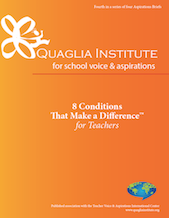 Click to learn more
Based on nearly four decades of research, the 8 Conditions That Make a Difference™ help educators strive for and fulfill their professional and collegial promise by emphasizing relationships, engaged learning, and sense of purpose. School staff live out the 3 Guiding Principles through the 8 Conditions in the following ways:
GUIDING PRINCIPLE 1: SELF-WORTH
Belonging
Knowing you are a valued member of a community while still maintaining your uniqueness.
Heroes
People who inspire you to excel and make positive changes in attitude and performance.
Sense of Accomplishment
Being recognized for effort, perseverance, and collegiality.
GUIDING PRINCIPLE 2: ENGAGEMENT
Fun & Excitement
Enjoying what you are doing as you are intellectually engaged and emotionally involved.
Curiosity & Creativity
Asking "Why?" and "Why not?" about the world around you.
Spirit of Adventure
Being excited to try new things without the fear of failure or success.
GUIDING PRINCIPLE 3: PURPOSE
Leadership & Responsibility
Cultivating accountability for the classroom environment and school community.
Confidence to Take Action
Believing you can make a difference in your school.
As educators work to integrate the 8 Conditions into the daily fabric of their schools, it is essential that students and staff work as partners.
Learn more about school voice and its relationship to the Aspirations Framework.