QISA's Project Aspire

---
---
Project Aspire offers a
web-based
educational experience in which participants complete various learning quests related to the Quaglia Institute's
Aspirations Framework
, built upon the Guiding Principles of Self-Worth, Engagement, and Purpose. Participants drive their own learning and move at their own pace. Along the way, teachers can earn points, which many districts elect to build into their PLC's and award professional credits or certification hours*.
PROFESSIONAL DEVELOPMENT
The
Quaglia Institute's survey
of over 30,000 teachers found that only 56% believe the Professional Development offered in their district is meaningful. Project Aspire addresses this need for a fresh approach by providing:
Professional Development that is meaningful, engaging, and relevant to staff's goals and responsibilities.
A learning experience that integrates the best research, blogs, TED talks, podcasts, and articles available.
Learning that is blended: taking full advantage of the flexibility the Internet has to offer, and incorporating ongoing opportunities to dialogue with your own colleagues and students.
Project Aspire is designed to complement and support your district and school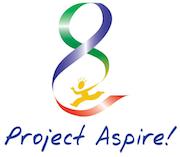 mission, while simultaneously furthering each individual educator's professional
goals. Activities are designed to foster Student and Teacher Voice, encourage
student and teacher collaboration, and promote the aspirations
For more information download the brochure
here
.
* Districts can elect to provide professional development credits/hours corresponding to badges earned through Project Aspire.